Put your own Graphics in a Game Boy Screen with After Effects
Ever wanted to add your own graphics and footage to a Game Boy Screen?
---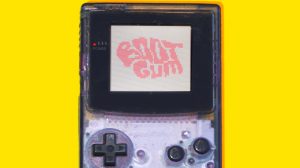 To help me dip my feet into Skillshare (Full Course Here), I wanted to craft a course around a very specific effect I've used for a few videos. A retro inspired screen-replace to help you produce interesting, short snippets that you can use on social.
---
Download the Footage Here (180MB .MOV with Alpha)
This is the footage of the Game Boy with a transparent screen (so you an place graphics inside it easily). You will also need to add your own background colour.
---
Download the example resources - Flyer to an event and TMNT Game Boy Footage (13MB)
This zip file just includes a few files to help you get started, including the 3 pieces to the example Event Flyer used in the Skillshare Class as well as some Game Boy footage you can play with.
---
Any other effects you'd like to see? Any other resources that would be helpful for you to complete the course? Let me know! If you're interested, you can also sign up to receive word on any new courses coming out & more free resources for your projects
Sign up to receive word on any new courses coming out and more free resources for your projects